You are considering returning to graduate school or have already applied to a graduate school program. First and foremost, congratulations on your decision to further your education; many graduate school programs provide prospective candidates with the specialization needed to succeed in their careers.
Regardless of how strong a graduate school's future return on investment is, careful financial planning is needed to ensure you don't end up with more student loans than you hoped for. That includes not only getting a plan in place for graduate school loans but also understanding what to do for any remaining undergraduate student loans.
How are you going to pay off your existing student loans while seeking a graduate degree? You've already heard about the word "deferment." You may be aware that it is a feature on some student loans that many graduate students use, but you may be unsure what it does about your monthly costs, the interest that accrues on your loans, and how much it will cost you over the course of your loan's existence. This is also determined by the type of loan(s) you have (federal or private) and whether you are in forbearance or deferment.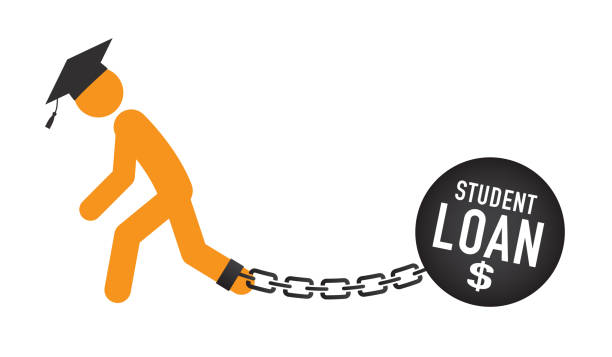 What are the Federal Loans available for Graduate Students?
There are two types of federal loans for graduate students.1 While both are funded by the federal government, there are differences in interest rate, and how much you can borrow from each.
Federal Direct Unsubsidized Loans
Federal Direct Graduate PLUS Loans
Filling out a FAFSA® would allow you to apply for both loans. Your graduate school will decide how much you will borrow based on the paperwork you send, the cost of attendance, and the amount of other financial assistance you get.
Federal Direct Unsubsidized Loans
Federal Direct Loans (also known as "Stafford Loans") are not dependent on financial necessity, and you are responsible for all loan interest. You must be enrolled at least part-time to qualify for a Federal Direct Loan.
Federal Direct Graduate PLUS Loans
If you need extra funding in addition to the Federal Direct Loans, Direct Graduate PLUS Loans will assist you in covering your graduate school expenses. You must be enrolled at least half-time at a qualifying school in a program leading to a graduate or professional degree, or a credential, to be eligible for PLUS Loans.
Can a Graduate Student defer Federal Loans?
When you defer your student loans, you delay making contributions for a set amount of time. Normally, if you failed to pay your student loan payments, your loans would become overdue. However, if you defer loans, you will avoid making payments without interest.
Deferment on federal student loans, such as federal direct loans and PLUS loans, is available through the Federal Student Aid (FSA) office. You should ask the loan servicer for a deferment. You are eligible if you are a graduate or professional student, or if you are enrolled in an approved graduate fellowship program.
Other than returning to graduate, there are other options to apply for student loan deferment. However, one constant requirement, at least for federal loans, is that you have direct loans, PLUS loans, Federal Family Education Loan (FFEL) loans, or Perkins loans.
Your choices for private student loans can differ depending on the provider. Deferment is available from certain private lenders, but not all of them. If you have private loans, talk to your lender or servicer about the options available to you.
Who all will qualify for Federal Loan Deferment?
If you apply, deferment is an optional 'pause' on your student loan payments. Depending on the situation, you could be allowed up to 36 months to stop making loan payments. During this time, however, interest will accrue and be capitalized on your loan balance. This is an especially useful solution if you have lost your work suddenly, incurred major or unnecessary medical costs within your family, or experienced some other financial crisis. A deferment gives you time to get back on your feet financially while having no negative effect on your credit score for the duration of the deferment. The below are examples of common conditions that would qualify for a deferment:
In-School Deferment – Returning to school for at least half-time
Graduate Fellowship Deferment – Enrollment in a graduate fellowship that's been approved.
Military Service Deferment – Service with the United States Military, the Peace Corps, or AmeriCorps.
Rehabilitation Program Deferment – Enrollment in a vocational, drug abuse, mental health, or alcohol abuse recovery program that's been approved.
Unemployment Deferment – If you are either unemployed or working less than 30 hours a week and looking for full-time jobs, you could be qualified (for up to three years!).
Economic Hardship Deferment – You may be eligible whether you are seeking a means-tested benefit, such as TANF, SSI, SNAP, welfare, or other federal assistance, or if you work full-time and receive less than the poverty guidelines for your family size and state of residence.
NEW Cancer or Medical Hardship– The Department of Education Appropriations Act now provides for a deferment if you or a member of your immediate family is seeking cancer care, beginning in 2019. Since this is a new initiative, it is better to contact your servicer directly if you think you might be qualified.
Pros and Cons of Deferment
A deferment is a popular option for borrowers who want to reduce their loan debt once they're back in school and it often occurs automatically. There are benefits and drawbacks of deferring your student loans, just as there are to every other decision you make with your student loans.
Pros of deferment
You are exempt from repaying your loans. Of course, you'd prefer not to have those debt payments looming over you, particularly when you're making little to no money and putting in long hours on your textbooks. Deferring your loans would provide you with the break, allowing you to concentrate on completing your degree.
The interest could be paid by the federal government. The US Department of Education will cover any debt you accrue through your deferment time whether you have a subsidized federal loan or a Perkins loan. As a result, after you complete your degree, the balance on your old loans would not have increased.
You will retain the federal benefits. If you're counting on an income-driven repayment package or federal loan forgiveness with a policy like Public Service Loan Forgiveness, deferring your student loans keeps all of the federal benefits available to you.
Cons of deferment
You could generate a lot of interest. You won't be as fortunate if you have unsubsidized federal loans. Unsubsidized loans accrue interest if you are not paying, and it is capitalized until the grace period expires. That means you'll graduate with more student loan debt, even though you didn't take out loans for this degree.
You won't be making much progress in paying down your debts. Yes, you won't have to make loan payments when you're in school, so if you're in a two-year program, you'll be adding two years more where you'll have to start making certain loan payments.
When to defer your Student Loan?
Your situation should determine if deferring student loans is the best option for you. Deferring student loans may be a lifesaver and completely appropriate if you are going to school, joining the Peace Corps, or caring for a child before returning to school, for example.
On the other hand, if you are experiencing financial difficulties but are still willing to make payments on your loan, you can benefit from doing so because it will help you get out of debt faster. Alternatively, you might just pay the interest on your loan per month to save it from contributing to the overall loan balance.
How to Apply for Student Loan Deferment?
Aside from in-school deferment, which can arise immediately, you'll have to request each of the other forms of deferments. You will find out whether you're approved by calling the student loan servicer. You'll need to fill out a form to seek a deferment if you are. In order to apply, you'll almost certainly need to have proof. The following are the forms you can require:
Deferring Private Loans
Private loans aren't required to help you defer your student loan payments in general, but it doesn't mean it won't cooperate for you if you're facing a genuine financial burden. As a result, it's a good idea to contact your lender, explain what's going on, and request some immediate relief. Your creditors may offer to let you put your payments on hold for a few months, or you may be able to make interest-only payments before you're back on your feet.
To be sure, in order to qualify for private loan deferment, you must demonstrate that you are in the midst of a financial crisis. This may include the following:
You've lost your job.
When you lose a partner or a loved one, you're faced with a lack of wages as well as funeral costs.
Inability of work as a result of sickness or accident
Sharing the specifics of your financial situation may persuade your lender to have a change of heart and temporarily suspend your payments. However, if you are permitted to defer payments on your private student loans, you can guarantee the interest will continue to accrue on your debt if you are not making payments.
If your private loan refuses to let you defer payments, you may request a lower monthly rate, either temporarily or permanently. When you're going through a bad patch, this should also offer some economical support.
Similar Questions
Do US universities offer scholarships to International students ?
Is there any Scholarships Offered for Online Masters in Computer Science program?